Archbishop Christodoulos, the Divine!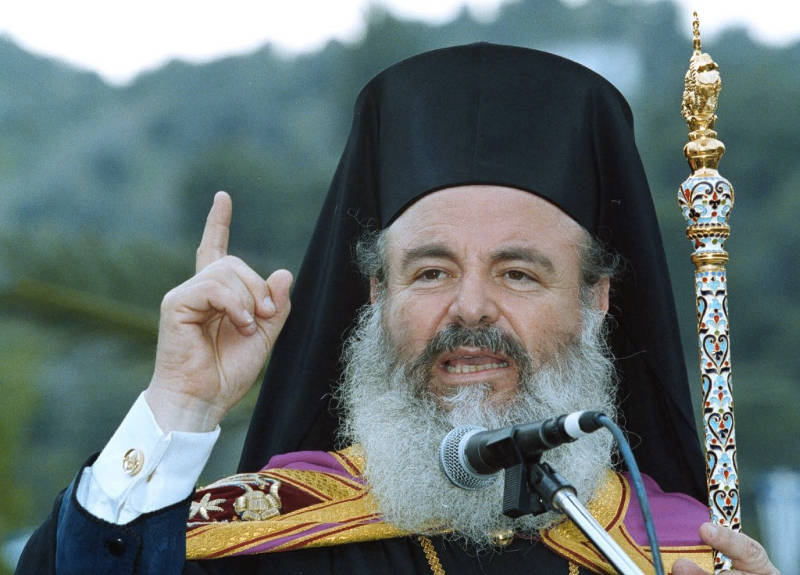 He was the youngest hierarch of the Orthodox Church, who took control of it and broke all the church taboos, calling all the young people to come to the churches anyway they liked. «We like you, Christodoulos!» they cheered. And he replied: «I like you too…» A true leader, a representative of Christianity and Orthodoxy, a controversial perhaps figure. He walked on a thin line, trying to show his dominance but also his sensitivity in social issues such as solitude, drugs, unemployment, and politics addressing the souls of the Greek people in a comprehensive and straightforward language.
I had the chance to meet him a little before he started his «Golgotha» in one of my trips to my homeland. I was going to be the best man to a couple I had met just one day before when they came to me and asked me to marry them because they wanted their marriage to be blessed by the Archbishop Christodoulos himself. They turned to his office, but the reply was that this would only happen if they had a famous person as a best man.
As a result, when they met me, they asked me to marry them.
And along with a famous reporter, to give them access to the Archbishop.
I was a bit skeptical initially, but I decided to accept their offer and help them. My relationship with the Church was never «too close,» and I had never been pious. I believe that God is a God of love, and as a result, I believe in love as the ultimate deity. I never thought that God is a punisher, and – regardless of the names given to him by the mortals– He is one and only, and he is always ready to forgive. I had never had any connections to the cosmic side of the Church. Faith and pray have always been a personal affair. I had some reservations about whether I had to accept the offer to be the best man in a mystery. They were characterized by the honor of being blessed by the Archbishop of Greece at that time.
I have to remind you that my publicity would provide them with the «access» to the Archbishopric, and as a result, Archbishop Christodoulos would attend the wedding and make their dream come true.
The wedding would take place in the Church of St. Constantine in Glyfada. When I arrived at the Church, I was surprised by the «hustle and bustle.»
The whole area was crowded with thousands of people, and there were luxurious chandeliers, red carpets, and decorations, making the ceremony look like an "old class," Oscar awards ceremony.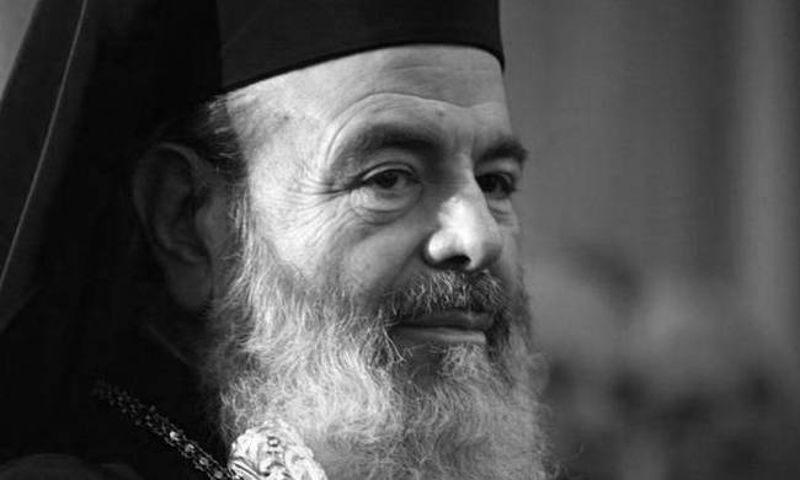 The ceremony
The chancel was full of dozens of priests and bishops wearing surplice made of gold and silver, and six on each side started the mystery.
There were two choirs, and the people had occupied every single place in the Church, but Archbishop Christodoulos had not arrived yet.
As I was sitting next to a couple, I heard one of their comments. «It feels like waiting for Marinella?» (Note by the author: Marinella is one of the greatest Greek singers and Superstars of Greece.)
The mystery was about to finish, but the «famous guest» was nowhere to be found. I had begun to wonder if the Archbishop would come.
The Star is here.
Suddenly, after a crescent by the choir, Archbishop Christodoulos appeared in the chancel along with his cohort.
Three people were holding his surplice so that he would be able to walk. Greatness is the ultimate form!!!
In a moment everything changed! I felt the brightness in the Church.
The glamour radiated by that man was unique. I was looking at him in awe. «It is unbelievable,» I thought, «this man is a star!».
When the wedding finished and the newlyweds left along with the people, his secretary approached me and told me that the Archbishop wanted to meet me – in essence, he wanted to give a short greeting to the «famous» best man of the couple.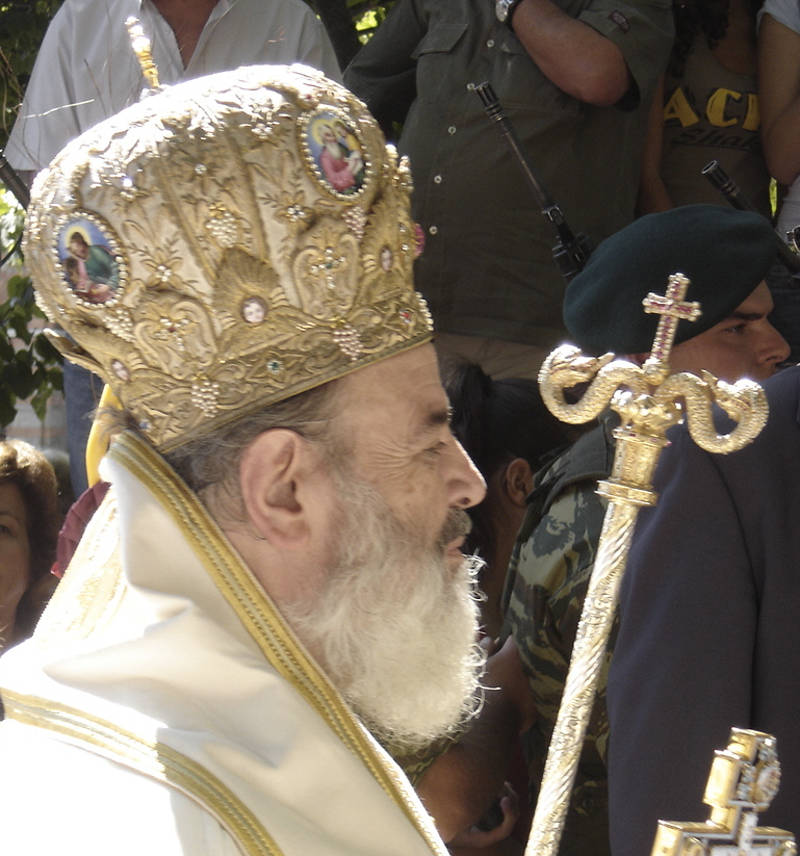 I am meeting with a charismatic Leader.
I moved to the back of the Church, where he was waiting for me, and I felt anxious. I looked at him in the face! His glow continued to amaze me. His secretary introduced me, and we started chatting while standing – after all, it was just a short meeting between the head of the Greek Church and a Greek- American famous person abroad and best man.
I was mistaken. The «short discussion» turned into an intense philosophical exchange of views which lasted for about an hour. I lit one cigarette after the other, but he didn't seem disturbed.
I began to understand that I was talking to a charismatic and «expert» at communication hierarch. The affection was mutual.
The time of our discussion was spent on philosophical approaches made by him because –as it turned out– he was a great, contemporary philosopher. At the same time, I didn't hide my arrogance and insolence, which perfectly described my character then.
In his look, I could sense his agony for the young people, the forgotten ones, but also his pain for the latest news in Greece, which seemed grim.
His numerous references to Plato and not only impressed me since I understood that I had next to me a cultivated person who had studied and analyzed the unique way of thinking of the Ancient Greeks.
He was passionate, amiable, and persistent in Orthodoxy's defense, not with verbalisms but with solid arguments. It was not the ideas that we exchanged, but the way it happened that made that meeting remain in my memory so vivid since I have never met a person that managed to influence me to such a great extent.
We talked about a lot of things that day. How did we manage to discuss so many different ideas in such a short time? He amazed me, to an extend that overshadowed the impressions and the exaggerations after he arrived at the chancel. In the 32 years of my career, I had the chance to meet kings, prime ministers, essential figures from the arts and science, and even famous people from Hollywood.
I didn't just meet the Hollywood stars. I also hanged out with them and went together to cafes and restaurants, and they invited me to their homes. I had the chance to see their passions, their agonies, and their insecurities.
The Archbishop was a charismatic spirit. A cultivated person with a goal.
A goal to restore the ruined prestige of the Orthodoxy. A goal to share the Hellenism across the globe.
When he spoke, you immediately realized that Christianity was in jeopardy, and he was apprehensive about that.
I invited him to Epidaurus, where I had a beautiful house, and he committed himself to do that on condition that I will visit the Archbishopric. He happily accepted my invitation, and I took his. However, these promises never came true because «time which is everyone's ancestor had other plans,» as Pindar said.
I heard the bad news in America a little after my first meeting with him, and I consider myself to be one of the few lucky people who had the chance to see a person whose glow was envied by many.
He was a person who knew and took advantage of all the privileges of his status to make the Church accessible to everyone in the most communicative way, which he served with loyalty.
Luxury and exaggeration, combined with his charismatic speech, were the most powerful tool he used, and through which he made a lot of people turn to Church again.
That discussion made me understand why young people loved him, and why people believed in him. Why everywhere he went, there were thousands of people waiting for him in line, and why some hated him.
It made me understand the reason, eventually, he left so suddenly...
He was born on 17th January 1939 in Xanthi, and his name was Chris Paraskevaidis. He studied Law, Theology and Byzantine Music. He was an ordinate deacon in 1961 and presbyter in 1965. In 1974 he was elected Metropolitan bishop of Dimitriada. In 1998, after the death of Archbishop Serafim, Christodoulos was elected Archbishop of Athens and Greece.
Youngsters Love him.
His speech and his approach to the young people turned the spotlights on him. When he invited the young people to re-approach the Church, «any way you are, wearing jeans or even piercing,» as he used to say. Apologizing for all the things that didn't happen by his predecessors, he became a target for many.
He emphasized the humanitarian action of the Church. He was founding new organizations to take care of single mothers, drug addicts, and abused women.
The social and philanthropic work of the Church is being promoted in Greece but also worldwide. A representative example is the non-profit organization «Solidarity,» which helped several countries around the world.
Besides, he modernized the Archbishopric by founding an online service with a digital library in 9 different languages, a music gallery, an art gallery, and a cultural portal in two languages (Greek and English).
His writing work is endless and consists of many volumes and pages.
Some milestones in his archiepiscopal career were his persistence in the writing of the religion in ids. This turned him against the Prime Minister at that time, Kostas Simitis, with massive protests which lasted for two years, but also the visit by Pope John Paul 2nd to Athens, something unprecedented at that time.
It was then that Pope John Paul apologized in Greek to the Greek citizens for the Catholic Church's mistake against Orthodoxy, referring to the first fall of Constantinople in 1204 during the 4th Crusade.
In June 2007, he was diagnosed with cancer in the colon, and we underwent surgery. However, despite the successful surgery, he was diagnosed with second cancer in his liver and cirrhosis. He was moved to the USA for a kidney transplant, which eventually never took place because there were several metastasizes.
He returned to Greece, and on the 28th January 2008, he died. He was buried in the 1st Cemetery of Athens.
Just a few days before, on New Year's Eve, recognizing that his end was near, he left one last note for the future generations.
«Stand up against those who want to sell our principles. Teach your children the truth as our dearly departed Fathers experienced it. Our people know how to defend our ideas. They have proven that repeatedly and they will do that again. Resistance and Recovery to find what we lost and defend what is in jeopardyι».
Ακολουθήστε το
Greeks Channel
στο
Google News
και δείτε πρώτοι όλες τις ειδήσεις, με τα πιο δημοφιλή νέα και έκτακτη επικαιρότητα για την Ελλάδα και όλους τους Έλληνες καθώς επίσης οτιδήποτε καινούργιο και σημαντικό αφορά την Ελληνική κοινωνία και ομογένεια.