Homemade fries with Feta cheese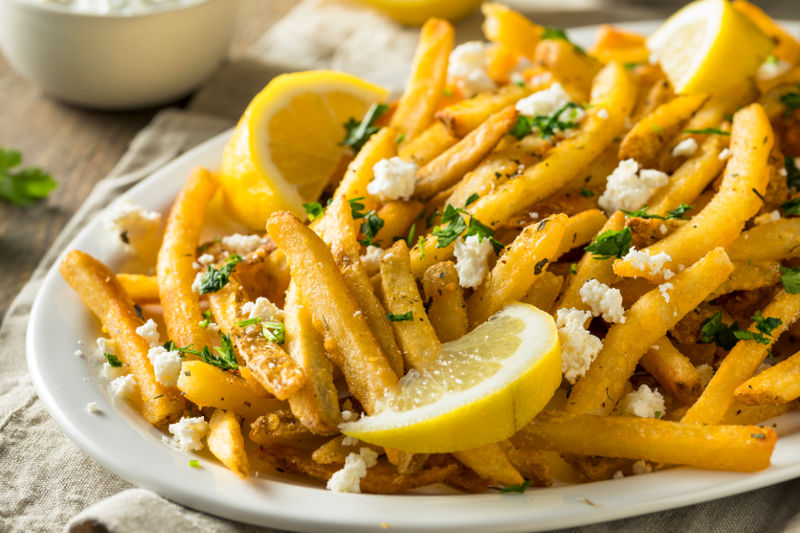 Ingredients
- Diced tomato- 1
- Salt
- Olive oil
- Lemon juice- from half a lemon
- ½ red onion- chopped
- Russet potatoes- cut into strips
- Feta cheese
- Parsley- chopped
- Dried oregano- 1 teaspoon
Procedure
- Layer your baking tray using a parchment paper. Add olive oil and allow it to heat at 200 degrees
- Place the potato strips in the preheated baking tray and add a salt and oregano seasoning. Toss the potatoes and make sure that they are covered with oil.
- Allow the potatoes to bake for approximately 55 minutes. Check and confirm that they have turned golden and crispy.
- Top the cooked potato strips with feta cheese and then sprinkle dry oregano on top. Use chopped parsley and sprinkles of lemon juice on the potatoes and serve.
Ακολουθήστε το
Greeks Channel
στο
Google News
και δείτε πρώτοι όλες τις ειδήσεις, με τα πιο δημοφιλή νέα και έκτακτη επικαιρότητα για την Ελλάδα και όλους τους Έλληνες καθώς επίσης οτιδήποτε καινούργιο και σημαντικό αφορά την Ελληνική κοινωνία και ομογένεια.