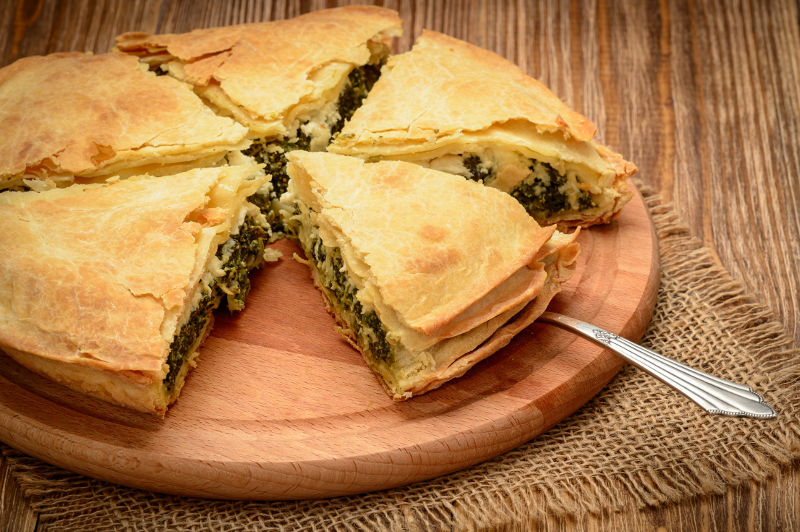 For the dough
1 pound AP flour
1 cup warm water
1/3 cup EVOO
1 tsp salt
2 tbsp red wine vinegar
Combine all and make a form dough . Cut into even pieces and roll in 1inch thickness and place the filling (7oz) wrap and seal thoroughly. The with a knife open 3 small holes then egg wash the top and place in the oven 350 f 25 min
For the spinach filling
2 pounds baby spinach
Sauté
1 red onion finely dished
4 bunches dill finely chopped
1 tbsp black pepper
4 eggs
1 cup EVOO
Mix all together smoothand then add 1 pound feta lightly crumbled.
Directions
1. Preheat oven to 400°F (200°C). Brush a 9-inch bake pan generously with extra virgin olive oil.
2. For the Filling: In a large bowl, combine chopped greens, chopped herbs, 1/4 cup extra virgin olive oil, black pepper and sea salt or Himalaya pink salt. Mix to wilt the greens, then set aside gently.
3. In a small sauté pan over medium heat, add one tablespoon extra virgin olive oil, scallions, and cook in the slow heat, about 5 minutes. Add the hot mixture to the greens and combine to wilt the vegetables further. Add dill and the egg and thoroughly mix. Once everything is well mixed, fold in the crumbled feta.
4. To Assemble the Pie: Open your phyllo and keep it covered with a moist kitchen towel while working. Working with one sheet at a time, lay phyllo carefully so that it is centered in your pan with the excess draping over the rim and brush generously with about one tablespoon extra virgin olive oil.
5. Add greens mixture to phyllo-lined pie. Fold excess phyllo over greens and drape remaining one sheet of phyllo over the top. Drizzle with more extra virgin olive oil. Slice into portions using a serrated knife. Bake in preheated oven until golden brown, about 45 minutes. Allow cooling at least 15 minutes before serving.
Ακολουθήστε το
Greeks Channel
στο
Google News
και δείτε πρώτοι όλες τις ειδήσεις, με τα πιο δημοφιλή νέα και έκτακτη επικαιρότητα για την Ελλάδα και όλους τους Έλληνες καθώς επίσης οτιδήποτε καινούργιο και σημαντικό αφορά την Ελληνική κοινωνία και ομογένεια.