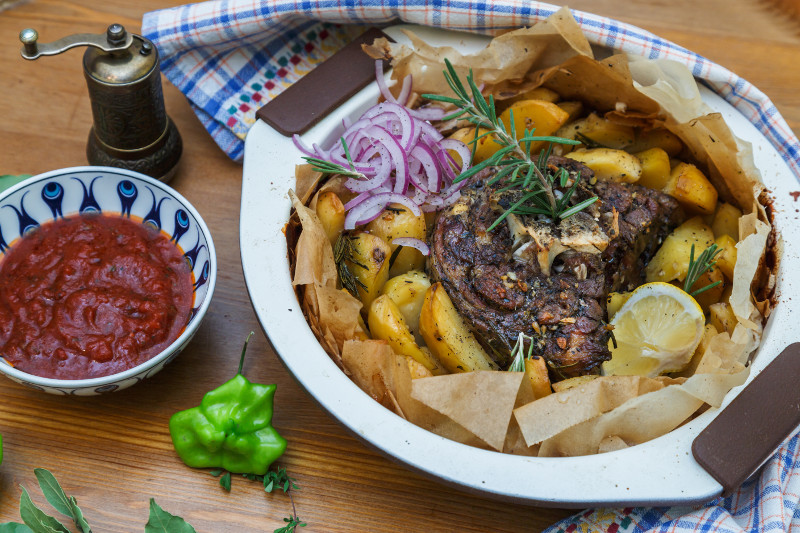 Ingredients
- 1.2 kg bones lamb leg
- Red onions
- Mustard- 2 tablespoons
- Ripe tomato- ½ (sliced)
- Dried oregano- 1 tablespoon
- Dry white wine- ½ cup
- Potatoes- 5 medium sized
- Ground pepper and salt
- Bell pepper- 3
- Garlic cloves
- Olive oil
- Kitchen string
- Parchment paper
Procedure
1. Cut the onions in 4 wedges. Prepare chunks of pepper along with 2 garlic cloves. Combine the vegetables prepared and place them into the bowl with the lamb. Add mustard and sprinkle oregano, salt and pepper for seasoning. Blend the ingredients with your hands. Marinade the mixture for the next 2 hours.
2. Upon successful marinating, return the lamb into normal temperature and add cheese into the same bowl containing the lamb. Allow the content to preheat up to 180 degrees.
3. Prepare the potatoes by peeling them first and then cutting each one of them into 4 pieces. Large pieces are preferred.
4. Wrap the content with a parchment paper. Cut 4 pieces of parchment paper in such a way that they form a star. Let the potatoes occupy the center part of the parchment paper and season them with oregano and pepper. Spill the marinade made on the potatoes. Place the lamb on top of the potatoes and then place the vegetables thereafter. Tie the content with a kitchen string and put it in a roasting tin.
5. Allow the content to lost for approximately 2 hours. Make sure they are tender before putting of the heat. Once done, remove the content from the parchment paper and return it to the roasting tin for consumption.
Ακολουθήστε το
Greeks Channel
στο
Google News
και δείτε πρώτοι όλες τις ειδήσεις, με τα πιο δημοφιλή νέα και έκτακτη επικαιρότητα για την Ελλάδα και όλους τους Έλληνες καθώς επίσης οτιδήποτε καινούργιο και σημαντικό αφορά την Ελληνική κοινωνία και ομογένεια.