Vegetable skewers (with Halloumi and pita bread)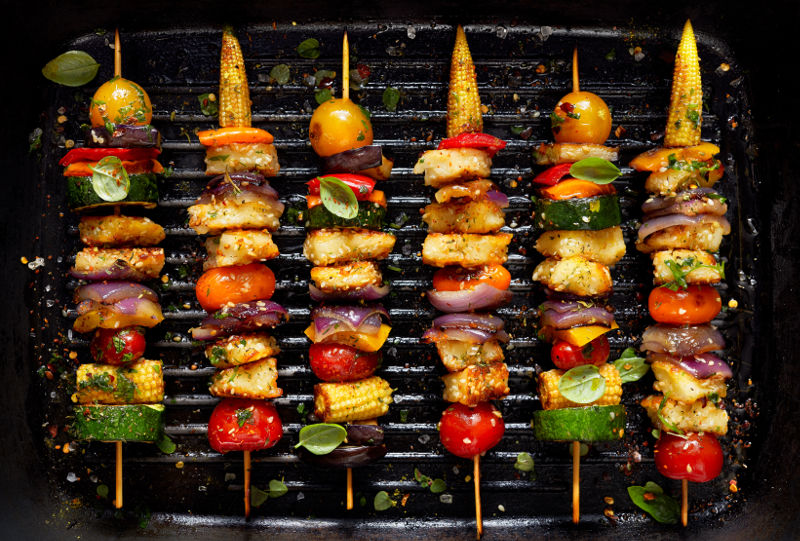 Ingredients
- Pita breads- 2
- Metallic or wooden skewers- 4
- Lemon juice
- Olive oil- 4 tablespoons
- Red onion- ½
- Yellow bell pepper
- Eggplant
- Cherrie tomatoes- 8
- Halloumi cheese- 7 ounces
Procedure
1. Halve and dice the peppers. Cut the onions into wedges. Cut the eggplant in half and then slice into chunks of 2 centimeters.
2. Add halloumi cheese cubes into a bowl. Add vegetables and thereafter olive oil and lemon juice. Season with dried oregano. Make sure that the contents are mixed well to ensure even spread of flavors.
3. Assemble the contents in the respective skewers. Make sure they are evenly distributed for adequate cooking. Make sure you soak wooden skewers in water to prevent them from burning.
4. Place the skewers on a preheated grill and allow then cook for about 12 minutes.
5. Serve the skewers with pita bread.
Ακολουθήστε το
Greeks Channel
στο
Google News
και δείτε πρώτοι όλες τις ειδήσεις, με τα πιο δημοφιλή νέα και έκτακτη επικαιρότητα για την Ελλάδα και όλους τους Έλληνες καθώς επίσης οτιδήποτε καινούργιο και σημαντικό αφορά την Ελληνική κοινωνία και ομογένεια.